Rev. Dr. Martin Luther King, Jr. Week 2022
Reclaim & Reimagine: Grounded in an Era of Transformation
Tuesday, January 18, 2022
Making Peace with the Reverend Doctor, and other complicated revolutionaries in this Life and the Next
Keynote Address by Neve Mazique
12:15 p.m.-1:45 p.m.
Neve Mazique Zoom Link
Meeting ID: 862 7679 7386
Passcode: MLK2022
NEVE, choreographer, writer, multidimensional artist, and revolutionary movement leader/follower tells a story of the Rev Dr. Martin Luther King, Jr. in which he is held up to the light to better appreciate the multi-faceted person he was. It is natural for us as ascendants of a movement, reverent of what we inherited, to romanticize and paint rosy the checkered pasts of our ancestors after their deaths. After all, the oldest ancestors become gods, or at the very least, stars. Yet, when we do so, we miss shadowy details of a person that matter as much as the bright spots. The same person can do great good and cause great harm. How do we make peace with that? How do we make peace with each other?
Wednesday, January 19, 2022
Embodying the Beloved Community Through Healing-Centered Education
Lecture by Dr. Angel Acosta
10:00 a.m. – 11:30 a.m.
Meeting ID: 829 2697 4425
Passcode: MLK2022
To celebrate the legacy of Martin Luther King Jr. is to attempt to embody what he referred to as the "beloved community." What does it mean to embody an all-inclusive way of being that leaves no room for prejudice, discrimination and hate? This event will invite Dr. Angel Acosta to engage in dialogue on MLK's vision and life work. Through the lens of healing-centered education, Dr. Acosta will contextualize the beloved community in our times. In our unprecedented times, we need to continuously come together to revive the values and practices of compassion, interdependence and perseverance. Through a combination of dialogue, writing exercises, and mindfulness practices, this event will invite us to dive into history to wrestle with what it means to build equitable futures for all of us.
Thursday, January 20, 2022
The Promised Land is Accessible: Dr. MLK Jr. Lessons for Achieving Disability Justice
Lecture by ChrisTiana ObeySumner
12:15 p.m.-1:45 p.m.
ChrisTiana ObeySumner Zoom Link
Meeting ID: 861 0991 6394
Passcode: MLK2022
"All progress is precarious, and the solution of one problem brings us face to face with another problem," Dr. Martin Luther King Jr.
As we cautiously enter into this new year, we may hear more incorporation of Disability Justice into our anti-racism, Indigenous sovereignty, and Black liberation work. This is core to the success of our equity efforts and the vision of Dr. MLK Jr., to recognize the wholeness and intersectionality of our community as folks with varying abilities and neurodivergencies.
This talk seeks to provide strategy, motivation, and affirmation for Black, Brown, and Indigenous disabled folks and their accomplices. ChrisTiana ObeySumner, (Disability Justice Activist and Founder and Principal Consultant, Epiphanies of Equity LLC,) will reflect on lessons and quotes from Dr. MLK Jr. and weave them in with the framework and community voice of Disability Justice. We will honor and recognize our Black, Brown, and Indigenous disabled ancestors through reflection on our collective power and interdependence towards the Promised Land.
Film & Discussion: King in the Wilderness
Facilitated by MLK Week Committee
1:00 p.m. – 3:30 p.m.
King in the Wilderness Zoom Link
Meeting ID:       843 5421 4884
Passcode:        752397
King in the Wilderness chronicles the final chapters of Dr. Martin Luther King Jr.'s life, revealing a conflicted leader who faced an onslaught of criticism from both sides of the political spectrum. While the Black Power movement saw his nonviolence as weakness, and President Lyndon B. Johnson saw his anti-Vietnam War speeches as irresponsible, Dr. King's unyielding belief in peaceful protest became a testing point for a nation on the brink of chaos.
2022 MLK Week Committee: Aaron Modica, Amy Rider King, Anita Wambui, Dr. Darryl Brice, Doris Martinez, Geomarc Panelo, Jodi White, Kathy Nguyen, Malaelupe Samifua, Patrice Harris and Edwina Fui (Chair)
Past Event Schedule
Democracy for Whom? Examining MLK's 3 Evils
Tuesday, January 19, 2021
Change the Way We See Native America
Keynote Address by Matika Wilbur
12:00 p.m.-1:30 p.m.
Matika Zoom Link
Passcode:513473
Matika Wilbur (Swinomish/Tulalip) is the founder and photographer of Project 562 with a mission to change the way we see Native America. Since Project 562's genesis in 2011 Matika has journeyed 400,000 miles to create images of Native Americans from more than 500 sovereign nations, visiting and photographing Indigenous folks from all 50 states along with South America and New Zealand. The result is an unprecedented repository of images and oral histories that accurately portrays contemporary Native Americans and Indigenous peoples. Matika is honored to share with the Highline Community a collection from Project 562 of stories and portraits of Native Culture Bearers from across Turtle Island; centering Indigenous futures in our consciousness.
Matika Wilbur (Swinomish/Tulalip) founder and creator of Project 562 is one of the nation's leading photographers. Project 562 is her multiyear photography project in which Matika has journeyed 400,000 miles to capture images of Native Americans from more than 500 sovereign nations, visiting and photographing Indigenous folks from all 50 states along with South America and New Zealand. The result is an unprecedented repository of images and oral histories that accurately portrays contemporary Native Americans and Indigenous peoples. Project 562, with intense and widespread media attention, including that of a variety of major publishers, will when completed produce a fine arts book, curricula, a documentary, and blog. Dispatches from Project 562 can be found on Matika's 40k-strong Instagram account, and she currently co-hosts the popular podcast All My Relations, which invites guests to explore the connections between land, creatural relatives, and one another. More is available at matikawilbur.com, project562.com and .allmyrelationspodcast.com . 

Dr. King's Radical vision and it's realities yesterday and today
Highline College Executive Cabinet
3:00 p.m.-4:30 p.m.
Exec Cabinet MLK Zoom Link
Passcode: 879908
Dr. Martin Luther King Jr's legacy was much more radical than remembered.  On May 10, 1967, King addressed The Hungry Club Forum and talked about three major evils facing this country: "the evil of racism, the evil of poverty, and the evil of war." Fifty-four years after that speech in Atlanta,  the evils he called out still exist and continue to have an impact on our college and community in various ways. Engage in a discussion with Executive Cabinet about King's radical vision, including the construction of the racial wealth gap in this country, and what the implications are for our college as we focus on closing equity gaps and increasing the success of all students.
Learn more about Highline College's Leadership Team and Dr. Mosby.
Wednesday, January 20, 2021
The Impact of Wars On A Global Scale
Dr. Yasir Qadhi
12:00 p.m.-1:30 p.m.
Dr. Qadhi Zoom Link
Passcode: 718255
The impact of wars on society. A Muslim perspective in context with Dr. Martin Luther King Jr.'s speech, "The Three Evils". The session will highlight islamophobia references and stereotypes of violence towards the Muslim community.
Yasir Qadhi, Ph.D., is a resident Scholar of the East Plano Islamic Center, a former professor at Rhodes College in the Department of Religious Studies, and is the Dean of Academic Affairs at Al-Maghrib Institute. He is one of the few people who has combined a traditional Eastern Islamic seminary education with Western academic training in the study of Islam. Dr. Qadhi graduated with a B.Sc. in Chemical Engineering from the University of Houston, after which he was accepted as a student at the Islamic University of Madinah. After completing a diploma in Arabic, he graduated with a B.A. from the College of Hadith and Islamic Sciences and then completed an M.A. in Islamic Theology from the College of Dawah. He then returned to the United States and completed a Ph.D. in Religious Studies from Yale University. Dr. Yasir Qadhi has authored several books, published academic articles, and appeared on numerous satellite and TV stations around the globe. His online videos are some of the most popular and highly-watched Islamic videos in English.
Thursday, January 21, 2021
Racial Equity: Moving From Commitment to Action
Epiphany and Jesse Johnson
12:00 p.m.-1:30 p.m.
Jesse and Epiphany Zoom Link
Passcode: 994548
We will examine how racism is perpetuated across institutions, particularly in the political and healthcare system. Our goal is to engage in a discussion that intersects both historical and current racism within the policy that leads to disproportionate negative outcomes for Black, Indigenous, and People of Color communities. This will inform audience self-reflection and introspection in how each person can either be a part of the problem or solution as we move forward into hopefully becoming an anti-racist society. This presentation will support Highline College's goal of bringing awareness to Dr. King's prophetic vision for a democracy that represents everyone.
State Representative Jesse Johnson is a lifelong Federal Way resident and a graduate from the University of Washington with a Bachelor of Arts in Political Science and a Masters of Education. Johnson's values are rooted in equity, inclusion and social justice. His focus comes from his close partnership with community in the South King County region, where he has worked as a High School Career and College Counselor and in Workforce Planning and Development for the Highline School District. In 2017, Jesse was elected the youngest City Council member in Federal Way history when he first took office at the age of 27. Now he serves as the Legislature's youngest member, where he works to help working families and seniors struggling with high costs, students looking for the right pathway to a good paying job and families struggling with housing insecurity across the state. Addressing youth violence prevention and expanding behavioral health services are important issues for Johnson, stemming from the work he championed on the Federal Way City Council. Just recently elected back to the State House of Representatives, Jesse will serve as Vice-Chair for the Public Safety Committee and a member of the Community and Economic Development Committee. Epiphany Nick Johnson is a 2nd-year Medical Student at the University of Washington School of Medicine. She graduated with a dual Bachelors of Science in Biology and Bachelors of Arts in American Ethnic Studies from the University of Washington. Epiphany has served as a Nurse Assistant at a local elementary school in Federal Way in addition to serving as a Registered Medical Assistant at Iora Primary Care. Her values are addressing the health needs of marginalized communities with an emphasis on intersecting identities, particularly the needs of Black and Samoan LGBTQIA+ youth. She also has a passion for destigmatizing mental health conditions and combating racism in medical education, which leads to adverse health outcomes for Black and brown communities. Epiphany is now preparing for clinicals in her medical school journey.
The First, But Not the Last – A Call for New Leaders
Cynthia Delostrinos
4:30 p.m.-6:00 p.m.
Cynthia Zoom Link
Passcode: 420409
In this presentation, we will explore what it means to "be the first, but not the last." The issues that 2020 clearly revealed to us are not new. Issues of racism, inequality, and injustice are what Dr. Martin Luther King Jr. dedicated his life to change, and it's time for all of us to commit, once again, to courageous change. What we need are new leaders in every area and sector of our society because it is going to take all of us to be the firsts: the first in our family to vote, the first to go to college, the first to speak up against racism, and more, to make sure the fight towards equity continues.
Cynthia is a graduate of Garfield High School, University of Washington, and Seattle University School of Law. She is an attorney and currently works as the Manager of the Supreme Court Commissions with the Administrative Office of the Courts. Her work focuses on statewide projects and policies which address racial equity, gender equity, and language access in the courts. In November of 2019, Cynthia became the first woman of color elected to the Tukwila City Council. Additionally, she serves as Co-President of the Tukwila Children's Foundation and has been a long-time board member for the Filipino Lawyers of Washington.
Against Ableism & White Supremacy: Disability Justice is Our Liberation
Lydia Browno
10:00 a.m.-11:30 a.m.
Lydia Zoom Link
Passcode: 227604
Disability Justice is a radically intersectional framework necessary to sharpen our political analysis, clarify our policy demands, and shape our everyday activism and organizing practice. During the global COVID-19 pandemic, Disability Justice offers urgent and vital interventions for addressing and ending the myriad harms of race science/eugenics, the medical/carceral industrial complex, and capitalist oppression. Co-created by Black and Brown and queer and trans disabled people, Disability Justice enables us to understand and examine interpersonal, systemic, structural, and institutional ableism and its intersections with gender-based oppressions, capitalism, settler-colonialism, and white supremacy.
Lydia X. Z. Brown is an advocate, organizer, educator, attorney, strategist, and writer whose work has focused on interpersonal and state violence against disabled people living at the intersections of race, class, gender, sexuality, nation, and language. They founded the Fund for Community Reparations for Autistic People of Color's Interdependence, Survival, and Empowerment, and co-edited All the Weight of Our Dreams: On Living Racialized Autism. They are currently creating their own tarot deck, Disability Justice Wisdom Tarot. Lydia is Adjunct Lecturer in Disability Studies at Georgetown University and an Adjunct Professorial Lecturer in American Studies at American University's Department of Critical Race, Gender, and Culture Studies. They serve on the American Bar Association's Commission on Disability Rights and as Chair of the ABA's Civil Rights and Social Justice Section's Disability Rights Committee. Often, their most important work has no title, job description, or funding, and probably never will.
Sponsored by Center for Cultural & Inclusive Excellence, and the  Center for Leadership & Service
2021 MLK Week Committee: Dr. Darryl Brice, Jodi White, Aaron Modica, Edwina Fui, Geomarc Panelo, Georgia Pirie, Jarmaine Santos, Fawzi Belal, Gerie Ventura, Doris Martinez (Chair), and Betty Vera (Co-Chair)
For more information contact CCIE
Radical Vision 20/20: Reclaiming Our Past, Rewriting Our Present, Reimagining Our Future
Monday, January 20, 2020

MLK Day of Service: "A Day On, Not a Day Off!"
8:00 a.m.-4:00 p.m.
Garfield High School-Seattle, WA
Want to volunteer? Please fill out the MLK Day of Service form.
Observed each year on the third Monday in January as "a day on, not a day off", MLK Day is the only federal holiday designated as a national day of service to encourage all individuals to volunteer to improve their communities. Students will have an opportunity to participate in this day of service, located in Seattle at Garfield High School. The celebration includes morning workshops, a career & opportunity fair, a rally, a march, and other events organized around this theme.
Lunch, transportation (from Highline College), and a t-shirt will be provided for volunteers!
Tuesday, January 21, 2020
Courageous Stories in the Face of Resistance
Keynote Address by Jenna Hanchard
11:00 a.m.-12:30 p.m.
Building 7
Marginalized groups often face pressure to contort their truth and rewrite their stories in corporate, capitalist and colonized spaces. In a radical vision for 2020, communities must be challenged to amplify and center marginalized narratives.
Journalist, storyteller, and equity advocate Jenna Hanchard believes our stories can only be written in our voices. She shares the tools needed to help us stay close to our truth and share it in the face of resistance.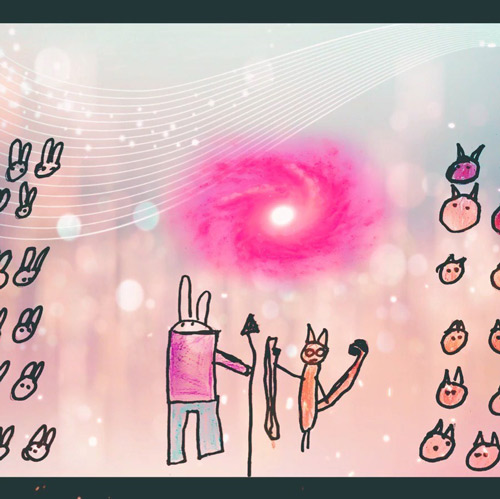 Art, Power, Resistance: Critical Voices of Children
Workshop presented by Jennifer Young
6:15 p.m.-8:00 p.m.
Building 8, Mt. Constance/Mt. Olympus
For all educators, community members, artists, children, and families interested in how creativity, collaboration, communication and critical thinking can be expanded through stories of social justice through the eyes of children and their drawings which are animated.
Jennifer Young embarked on a two year creative and intellectual journey with a group of brilliant EL (English Learner) students who studied the period of European colonization and exploration through the lens of historically marginalized groups. After completing the history/political science unit, students did a critical analysis of Shaun Tan's "The Rabbits", which later inspired their culminating multi-modal project. The culminating project is a bold collection of counter-narratives that utilize art and story telling as a way to illuminate broader social considerations.
Wednesday, January 22, 2020
Rupturing from the black-white racial binary: AfroLatinxs bridging the black-brown divide
Lecture by Dr. Claudia Garcia Louis
10:00 a.m.-11:30 a.m.
Building 8, Mt. Constance/Mt. Olympus
The black-white binary is seeded in colonial invasion, slavery, and xenophobic principles. It has been utilized to keep colonist racial hierarchies in their place while sustaining the black-brown divide. In this presentation, I will underscore how the social investment in racial differences is foregrounded by ahistorical accounts of American blackness and mestizaje. Finally, I argue AfroLatinxs could serve as the bridge between brownness and blackness given they disrupt the essentialism of the binary.
Dr. García-Louis is an assistant professor of higher education and leadership studies at the University of Texas San Antonio. Her research focuses on the racialization of Latinxs in higher education, the impact of race and racism on their academic performance, and intragroup Latinx racial heterogeneity.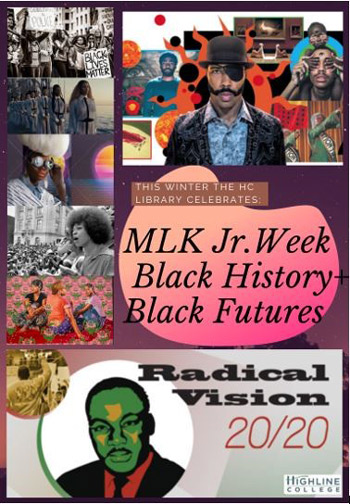 Pop-Up! Library
11:30 a.m.-1:30 p.m.
Building 8, Mt. Constance/Mt. Olympus
From January-February your campus library honors & celebrates January 20th's MLK Jr. Day, our excellent on-campus MLK Jr. Week of programming, and February's Black History-Black Futures month. Brought to you by the joint efforts of librarians Qin Cao and Samantha Sermeño, the library encourages our campus to checkout our in-house display and the following libguide (link): MLK Jr. Week, Black History-Black Futures Months. In this libguide you'll find in-house library and ebooks for checkout, Black diaspora media, Black History and activism resources.
Seize Your Moment
Lecture by Obasi Shaw
1:30 p.m.-3:00 p.m.
Building 8, Mt. Constance/Mt. Olympus
What's the difference between sheer luck and calculated risk-taking? How can you capitalize on your unique voice and position to make a difference in the world? What does it truly mean to seize your moment? Come hear thoughts, advice, and some quality rap from a rapper, writer, software engineer, and Harvard graduate who's managed to seize his own fair share of moments.
Obasi Shaw is a rapper, writer, and Google software engineer, whose 2017 senior thesis made waves as Harvard's first rap thesis. The thesis, a 10-song rap album called Liminal Minds, received high praise as both a rap album and a work of poetry, and can be found on all major streaming platforms. Obasi has given talks at universities, high schools, and a Fortune 100 company, as well as an interview with Sway in the Morning. He is passionate about teaching diverse groups how to cultivate and embrace their unique talents and leverage them for success in imaginative ways.
Thursday, January 23, 2020
Dr. Martin Luther King Jr., Revolutionary and Scholar
Lecture by Maurice Dolberry
10:00 a.m.-11:30 a.m.
Building 7
Dr. Martin Luther King Jr. was a powerful and multi-faceted man, whose impact on modern humanity belies the 39 years of his shortened life. While Dr. King's legacy is now regularly praised by conservatives and condemned by radicals in the US, the reality of who he was is often lost in the tug of war. This program will help us reconcieve Dr. King as a courageous revolutionary and scholar, whose unapologetic Blackness stood at the foundation of his activism.
During his 22 years as an educator, Maurice Dolberry has been teacher, coach, and an administrator in grades Pre-K through 20.  He currently runs A Line in the Sand,LLC, an educational consulting and research service, and coaches high school wrestling in Seattle.  Originally from Ypsilanti, Michigan, Maurice is a hip-hop head, a Sci-Fi fan, and a long-time dog owner. He earned a B.S. In biology from Howard University, a M.Ed. from Florida Atlantic University, and a PhD in education from the University of Washington.
Our Mo'olelo (history/story) of Liberation: Centering Indigenous futures in our work towards transformation
Lecture by Dr. Jamaica Heolimeleikalani Osorio
12:00 p.m.-1:30 p.m.
Building 7
Discussing the role of Indigenous values and practices in our contemporary social movements for justice and transformation, Dr. Osorio will share ʻŌiwi (indigenous) moʻolelo (stories and histories) of activism and resistance to settler / state violence and how those histories are informing a birth of a revolution in Hawaiʻi around indigenous rights, extractive capitalism, over development, police brutality and State sanctioned violence. These moʻolelo will then be used to offer insight and possibilities for future organizing on Turtle Island (the US continent)—and offer some ideas as to how our movements can support and learn from and with each other.
Dr. Jamaica Heolimeleikalani Osorio is a Kanaka Maoli wahine poet / activist / scholar born and raised in Pālolo Valley to parents Jonathan and Mary Osorio. Heoli earned her PhD in English (Hawaiian literature) with the completion of her dissertation entitled: "(Re)membering ʻUpena of Intimacies: A Kanaka Maoli Moʻolelo Beyond Queer Theory." Currently, Heoli is an Assistant Professor of Indigenous and Native Hawaiian Politics at the University of Hawaiʻi at Mānoa. Heoli is a three-time national poetry champion, poetry mentor and a published author. She is a proud past Kaiāpuni student, Ford fellow, and a graduate of Kamehameha, Stanford (BA) and New York University (MA).
Inter-Cultural Center Flick Friday: "Blackkklansman"
Film Viewing
12:00 p.m.-2:00 p.m.
Building 7
The Inter-Cultural Center in collaboration with MLK Week 2020 present, Flick Friday with a showing of Blackkklansman. Join us for this screening and engage in dialogue during this event! Movie Description: "Ron Stallworth is the first African-American detective to serve in the Colorado Springs Police Department. Determined to make a name for himself, Stallworth bravely sets out on a dangerous mission: infiltrate and expose the Ku Klux Klan. The detective soon recruits a more seasoned colleague, Flip Zimmerman, into the undercover investigation of a lifetime. Together, they team up to take down the extremist hate group as the organization aims to sanitize its rhetoric to appeal to the mainstream."
Volunteer Opportunities
We are looking for volunteers to assist during MLK Week.  This is a great opportunity for students seeking extracurricular activities. Please sign up on our volunteer form.
Sponsored by:
Sponsored by Center for Cultural & Inclusive Excellence, Center for Leadership & Service, Learning and Teaching Center, AANAPISI, Academic Affairs and Central Washington University
2020 MLK Week Committee: Dr. Darryl Brice, Jodi White, Aaron Modica, Edwina Fui, Betty Vera, Geomarc Panelo, Amy Bergstrom, Paul Lupe, Syrenin Sam, Donna Enguerra Simpson, Mishel Kuch, Malaelupe Samifua, Rashmi Koushik and Doris Martinez (Chair)
For more information: Dmartinez@highline.edu or (206) 592-4319
Nothing to Lose: Preserving Humanity in the Face of Trauma
Tuesday, January 22, 2019
The Village It Will Take: What Our Wounds Demand of Justice/Just Us
11 a.m.–12:30 p.m.
Keynote address by Terisa Siagatonu, Poet, Arts Educator, Community Organizer & Mental Health Advocate
Location: Building 7
This opening keynote address will ponder the questions that Dr. King Jr.'s legacy illuminated towards the end of his life: what is the full cost of justice and who is paying for it? Can we afford to fight for our collective humanity as our wounds remain unhealed? Amidst new ones that hurt us every day? How does the grief of injustice impact our demand for its end? This keynote invites participants to hold their trauma not in isolation: but in community with each other, and remain steadfast in Dr. King's relentless hope for all of us, reminding us that if it takes a village to raise a child, then it will take a village to heal them.
Terisa Siagatonu's presence in the poetry world as a queer Samoan woman and activist has granted her opportunities to perform in places ranging from the UN Conference on Climate Change in Paris, France to the White House. She holds a Bachelor's Degree in Community Studies and minor in Education from the University of California- Santa Cruz and a Master's Degree in Marriage/Family Therapy from the University of Southern California (USC). Learn more about Terisa Siagatonu.
Indigenizing Spaces: Teachings of the First People
1:30 p.m.–3 p.m.
Lecture presented by Roger Fernandes
Location: Building 8 (1st floor), Mt. Constance/Mt. Olympus
This presentation will share traditional mythic stories and legends of the local Coast Salish tribes and examine the meanings and teachings within the stories that can influence our modern lives.
Roger Fernandes is a Native American artist, storyteller, and educator whose work focuses on the culture and arts of the Coast Salish tribes of western Washington.  He is a member of the Lower Elwha S'Klallam Tribe and has a B.A. in Native American Studies from the Evergreen State College and M.A. in Whole Systems Design from Antioch University.  As an artist he practices and teaches Coast Salish design and as a storyteller he shares storytelling as a foundational human process for teaching and healing.  He currently teaches courses on storytelling and art at the University of Washington, Northwest Indian College and other learning institutions.
Wednesday, January 23, 2019
My People Are Rising
10 a.m.–11:30 a.m.
Documentary Screening and Q & A by Rafael Flores, Director
Location: Building 7
Please join us for a special screening of "My People Are Rising", Aaron Dixon's autobiographical film about the foundation of the Seattle Black Panther party chapter. With a special guest appearances and Q&A with director Rafael Flores of Green Eyed Media and Aaron Dixon.
Rafael Flores is Phi Beta Kappa Scholar who specializes in Directing, Social Justice Film Production, Chicano Cinema, and Third Cinema. Flores is the Arts Director for non-profit United Roots, and the Co-Founder of production company, Green Eyed Media, organizations both based in Oakland, CA. His work has been praised by various institutions that include: The White House, The Grammy Foundation, TED-X lecture series, the Cannes International Film Festival, the Writer's Guild Theater of America, the London Guardian, and the Chicano International Film Festival. For more information, please visit https://greeneyedmedia.com/portfolio-item/my-people-are-rising/#
Reception, My People Are Rising: Memoir of a Black Panther Party Captain
12:00 p.m.–1:30 p.m.
Lecture presented by Aaron Dixon, former Black Panther Party Captain
Location: Building 8, (Mt. Constance/Olympus)
The presentation will begin with Aaron Dixon discussing the writing of his memoir. He will then be available to answer questions from students about the Black Panther Party as well as its relevance to today's political climate.
Aaron Dixon is a former captain of the Black Panther Party, Seattle Chapter. In Oakland, he worked in the BPP National Headquarters for six years as an assistant to Elaine Brown and Huey P. Newton. For 25 years, he worked for gang-involved and homeless youth. In 2006, he ran for the U.S. Senate as a Green Party candidate. He has traveled to Palestine with the African Heritage Delegation. Aaron Dixon is the author of My People are Rising (2012). He travels throughout the country speaking at college campuses and community centers. Aaron is working on his next book.
Thursday, January 24, 2019
Hilltop Urban Gardens: Growing Towards Freedom
9:00 a.m.–10:30 a.m.
Lecture presented by Miriam McBride, Community Activist, and Evan Martynovych, Community Activist
Location: Building 8, (Mt. Constance/Olympus)
Hilltop Urban Gardens mission is to create a sovereign food system and to create economic and racial justice. We are a Black, Queer, and Trans led organization that centers the needs of Black folks and does work to support and uplift other marginalized communities. We operate through an anti-racist lens to create a community we can all thrive in.
Miriam McBride is an active community activist. For the past 2 years, she has been involved with HUG and is currently working on projects to get youth involved in gardening and community organizing. She is also passionate about seeing the power of Black folks being able to reframe their relationship to land and food.
Evan Martynovych is a Ph.D. candidate at Prescott College in the Sustainability Education Program. Evan has been an intern with HUG for the past five years. She is currently working on educating and training white volunteers at HUG with their white folks' orientation, the purpose of this orientation is to help white volunteers to better understand their role when working within a Black led organization. This training teaches white folks about their whiteness, how it impacts the spaces they are in, and affects people of color.
Apapachandonos: Towards a Lasting Collectivity
1:30 p.m.–3 p.m.
Lecture presented by Chhoti Maa, Multidisciplinary Cultural Producer
Location: Building 7
In this workshop, we will delve through the 13 airs that affect the body, soul and spirit according to Mexican traditional medicine practitioner Estela Roman. The airs of the soul are susto, fright, sadness, worry, anger, shame, resentment, grief, envy, jealousy, guilty, fear, and egotism. This workshop will utilize oral tradition, drawing and creative writing to help folks identify the airs that are prevalent in their body and their family. This is a workshop for introspection and release. Utilizing Indigenous medicine/philosophy we will get an in depth understanding of how to unknot internalized systems of oppression.
Chhoti Maa was born in Guanajuato, MX and is currently based in Oakland, CA. She has self-released 6 projects in her 11 years as an MC/singer/producer. Her sound work is rooted in hip-hop, neufolk, and Mexican oral tradition, specifically her Grandma's storytelling magic. Since 2007, Chhoti Maa has performed, collaborated and taught in Puerto Rico, China, US, Cuba, Spain, Qatar, U.A.E., Ghana, Sweden, Canada, Peru and Mexico. Their work deals with de-colonial living, red medicine, queerness, migrant empowerment and the reconstruction of the womyn temple.
Safe Spaces to Brave Spaces: Courageous Conversations
9 a.m.–10:30 a.m.
Lecture presented by Rosetta Lee
Location: Building 8, (Mt. Constance/Olympus)
Talking about topics like gender, race, sexual orientation, and class can raise anxiety for many people, and yet we must have the conversation in our schools and our lives in order to be more inclusive and change the world for the better. What are the fears and common pitfalls that keep us from broaching courageous conversations? Gain practical skills for responding to hurtful experiences and engaging in courageous conversations.
Rosetta Lee serves Seattle Girls' School in dual roles. SGS is an innovative school for Junior High School girls, aiming to empower women leaders and change agents and dedicating its energies to a diverse community of students and faculty, an anti-bias mission, and an integrated curriculum. As a faculty member, Rosetta teaches subjects such as science, math, technology, art, ethics, social justice, and more. As a professional outreach specialist, she designs and delivers trainings for all constituencies of the school community, as well as the local and national educational and nonprofit sectors.