Rev. Dr. Martin Luther King, Jr. Week 2023
Living MLK: Moving Beyond Surviving to Thriving
Tuesday, Jan. 17
Opening Keynote with Dr. Paige Gardner
Visibilizing the Invisible: The Courageous Leaders behind MLKs Dream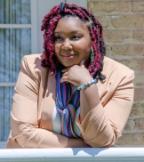 Time: 11 a.m.-12:30 p.m.
Location: Mt. Constance/Olympus, Building 8
The legacy of Rev. Dr. Martin Luther King, Jr. runs deep and continues to inspire generation after generation of leaders. In an effort to further understand the power of community, Dr. Gardner will reflect on some of the invisibilized leaders who worked alongside MLK to enact radical love and justice. It is at the intersection of hypervisible movements and invisibilized identities where exploitation and erasure can take place.
Together, we will reflect on aspects of our Highline communal/leadership roles and learn about the ways emotional labor negatively impacts our ability to thrive in community. Emotional labor is the process of regulating your emotions and putting others' needs before your own during interactions with students, colleagues, and supervisors in order to deliver high quality work. It can be difficult to detect – and even more challenging to manage – especially in environments that prioritize human connection. Expending high-level emotional labor over extended periods of time can lead to burn out, permanent exhaustion, and, at times, turnover. These factors chip away at the quality of team work and inhibit the way we exercise agency in movements for change. Dr. Gardner will offer four strategies to help you navigate those challenges and will provide space for you to brainstorm ways to minimize emotional labor and maximize agency in your life.
About the Speaker:
Dr. Gardner (she, her, hers) serves as Co-Program Director and  Assistant Professor in the College of Education at Seattle University. She has 13 years of scholar-practitioner experience in crisis management, multicultural affairs, and residential education. Her research agenda centers race and gender equity in the workplace as well as intersectional identity development among students, staff, and faculty in higher education and student affairs. Dr. Gardner has facilitated a series of Diversity-Equity-Inclusion webinars and workshops for Academic Impressions, a national professional development platform for faculty and staff in higher education. She is also a co-founder of Career Killing Moves for Women of Color in Higher Education, which serves as a digital storytelling platform that fosters courageous and authentic leadership development. As a queer, Black, Woman of Color, Dr. Gardner finds great importance in advocating, empowering, and building solidarity-based coalitions with and for those on the margins of society. Inspired by the African proverb, Ubuntu, "I am, because we are," Dr. Gardner builds community, cultivates change, and creates compassionate learning environments for students to thrive.
Pop up Library
Time: 12:30-1pm & 1:45-2:30pm
Location: Mt. Constance/Olympus, Building 8
Workshop with Dr. Paige Gardner
(Student Space) Leading for Self & Others: A Vision Boarding Activity
Time: 1-1:45 p.m.
Location: Mt. Constance/Olympus, Building 8
Legacy: Who was MLK?
Hosted by: Global Student Ambassadors
Time: 2:30-4 p.m.
Location: Mt. Constance/Olympus, Building 8
Curious to learn more about Rev. Dr. Martin Luther King Jr. or why we celebrate MLK Day? Then please come to "Legacy: Who Was MLK?" on Tuesday January 17th from 2:30-4:00pm in Building 8, Mt. Constance/Olympus. During this interactive session, you will learn about Rev. Dr. Martin Luther King Jr., his impact on the 1950's and 1960's Civil Rights Movement, and how his legacy continues to impact civil rights issues of today.
Wednesday, Jan. 18
Lessons from the Past about an Uncertain Future: Social Justice and Ecological Crises
Speaker: Dr. Robert Jensen
Time: 11 a.m.-12:30 p.m.
Location: via Zoom
Passcode: 726483
We often look to inspirational figures from the past for insights about our moment in history. What do the writings and life of Martin Luther King, Jr. help us understand about the multiple cascading ecological crises of today? Not much in detail, because the world's ecosystems are in crisis in ways that no one from King's era could have predicted. As we celebrate the courage and achievements of King and the civil rights movement, we can hold onto the values they lived while recognizing that we are on new ground in the struggle for a sustainable human future.
Highlighting Community Pillars: The Impact of Local Businesses on Community Growth, Unity, and Resilience
Guest Panelists
Time: 1:30-3 p.m.
Location: Mt. Constance/Olympus, Building 8
Local businesses were pivotal to the civil rights movement. In their own form of community organizing, they contributed innovation, strength and courage to those around them. Join us for a panel with business owners local to King County and engage as you listen to their stories, visions, and work towards fostering a thriving community
Thursday, Jan. 19
Building Bridges at Highline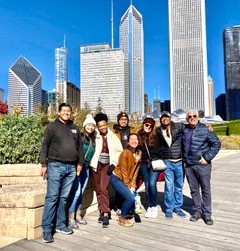 Performance by iBuild Bridges Foundation
Time: 12:15-1:45 p.m.
Location: Mt. Townsend, Building 8
iBuildBridges uses music to inspire individuals to actively build relationships with people of different races, religions and backgrounds. Musicians will share their own compositions and equity-based songs with messages supporting diversity and inclusion. A Q&A session will be provided to deeply connect students and performers. A 45-minute concert will be followed by a 45-minute presentation, "The Art of Inclusion While Having Fun" by iBuildBridges Music Director Eduardo Mendonça. Using the arts as a tool of liberation and their vital role to foster conceptual development in leadership, the learning process will incorporate the practice of lenses of race and social justice as essential instruments to help to reflect on identity as an anti-racist, humanizing individual working for social justice.
Food Pantry Pop-Up
Time: 12:15-1:45 p.m.
Location: Mt. Townsend, Building 8
Past Event Schedule